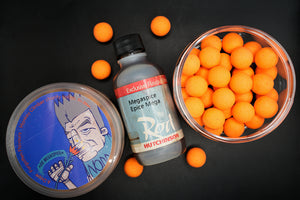 New Hutchy charity collab dropping tomorrow Jan 4, 6pm Euro time
Most of you will probably remember the
charity collab Forgotten Flavours and Monkey Climber did on the Hutchy Appreciation Page on Facebook
? When the boys broke the internet and sold those original (Rod's personal stash) Scopex and Monstercrab glass bottles purely to raise money? Salim from Dope over in Belgium was so touched by the gesture they made for a charity that supports Ethan, grandson of Rod and son of our beloved Yas. So Salim thought it would be a cool idea to team up with Gio and Dieter for another crazy charity collab.
And so the oldscool Belgium connection teamed up one more  time and came up with this OG Megaspice hookbait collab. All three musketeers gave one original bottle of Megaspice from their personal collections to support this new charity collab. Forgotten Flavours made the pop ups with this flagship Hutchy flavour, Monkey Climber made a sick sticker with a sick design and Dope rolled additional corkballs and wafters to perfection.
To raise the highest possible profit from this charity we decided to send a full box with hookbaits to Yas directly so she can handle all orders from and for the UK. 
For European supporters to this cause and collectors Gio, Dieter and Salim each have a limited number of tubs to sell on their sites.
Lots of love xxx,
Monkey Climber
Forgotten Flavours
Dope Bait Company
PS For Monkey Climber the pop ups and wafters
will drop here
, so stay sharp tomorrow night!
---