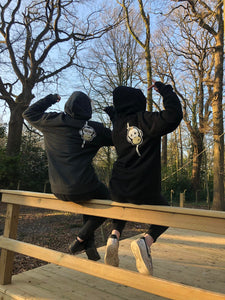 Free MC clothing for non profit org vzw De Berkjes
From time to time we run a misprint or have fabrics with minor damages etc which we cannot sell on. Recently a customer and friend of ours dropped by and told us about his work over at the non profit organisation De Berkjes in Bruges, the only observation and treatment centre in our Belgian province of West Flanders for children and young people with behavioural and emotional problems. 
These children often come from poor families too, or don't even have any real or caring parents. As our friend told us, these kids often lack toys, clothing, etc. That's when and where we got the idea to give our misprints, minor damages, samples, leftovers, etc. to this organisation and do our bit of helping out.
Just received this pic back from two lucky kids, means the world to us! 
X
OVERVIEW OF MONEY WE HELPED RAISING FOR DIFFERENT CAUSES AND OTHER CHARITY WE DO/DID
There's quite a few over the past decade which we never really recorded, so from now on we would like to do so on here with every charity blog post we do: 
Free clothing for the non profit De Berkjes (2022 and ongoing)
3.260 GBP for Phyillis Tuckwell hospice (2021-22)
970 GBP for Breast Cancer Research (2021)
4.000 GBP for Mikey's Wish (2021)
1.800 GBP for Lucy's Bowl (2021)
---