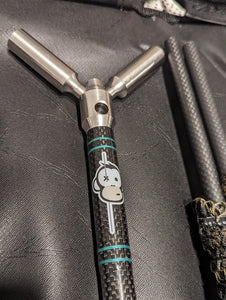 Unique Dobbins Bobbins x Monkey Climber landing net for charity!
Dobbins Bobbins X Monkey Climber landing net collaboration in memory of our good friend and supporter Colin Lee. Colin was admitted to hospital just before Christmas with a chest infection and sadly it turned into pneumonia and he just couldn't fight it off. Colin was a massive friend and supporter of both Bucko and Gio and left many of the angling community shocked and lost for words. So we would like to bring you a very special landing net to raise money for a charity very close to Colin's heart: "down syndrome association".
This is a 6.5 ft 2 piece Dobbins landing net finished with a 15mm thick walled high gloss carbon handle with a stainless spike and stainless spreader block. This net also comes with a Fox International camo 42" mesh and to finish it all off Ronnee at Bespoke Angling Supplies Leicester Dpm padded net sleeve. And to top it off a very cool monkey and Dobbin mug .
Auction ends Sunday 5th at 8pm bids in GBP please
Happy bidding guys and good luck if we could please share the hell out of this and make Colin's family proud and raise lots of money for the charity of his choice
Lots of love
Bucko ✌️& Gio
OVERVIEW OF MONEY WE HELPED RAISING FOR DIFFERENT CAUSES
There's quite a few over the past decade which we never really recorded, so from now on we would like to do so on here with every charity blog post we do:
525 GBP for Down Syndrome Association (2023)
1.100 GBP for Mikey's Wish (2023)
Unknown total amount for FODCAC (2022)
3.260 GBP for Phyillis Tuckwell hospice (2021-22)
970 GBP for Breast Cancer Research (2021)
4.000 GBP for Mikey's Wish (2021)
1.800 GBP for Lucy's Bowl (2021)
---